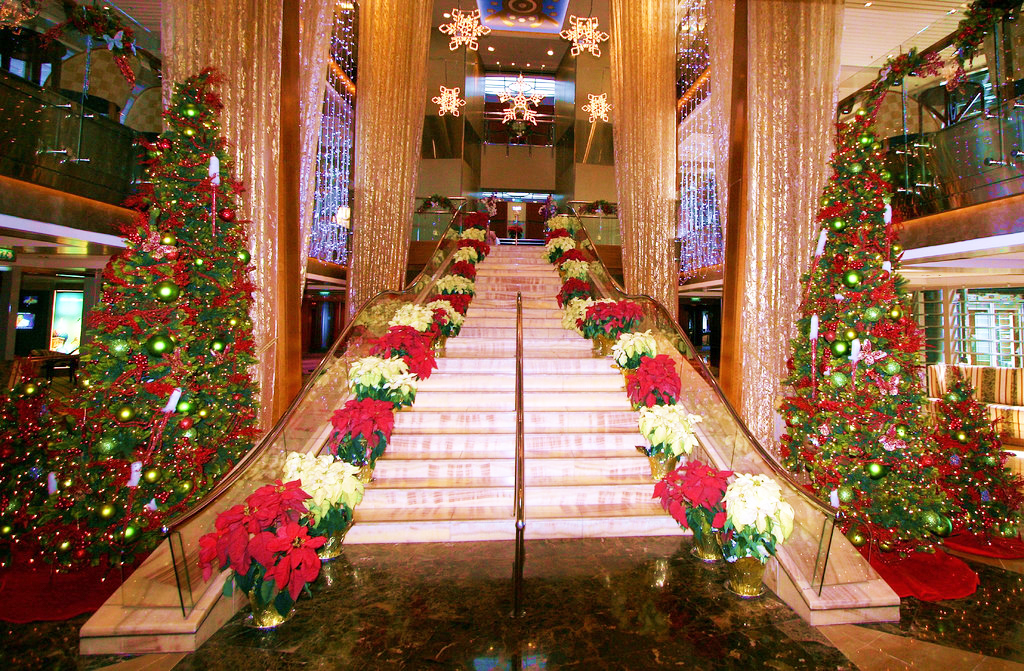 The holiday season for centuries has been associated with Christmas and New Year in the northern hemisphere – lots of snow, fires burning, brandy and rum-based drinks, and everyone covered in furs. For many, the temptation to indulge in all of these Christmas memories in fine summery weather is too hard to resist. Their solution – a Christmas cruise.
For the West, the holiday season has been highly commercialized and cruise ship companies have seized the opportunity to cash in on this potential. Swarms of people opt to spend their vacations with family on board a cruise ship in more tropical locations such as the Caribbean, the Bahamas, Mexico, the Canary Islands, and perhaps further in the southern hemisphere in places like Australia and New Zealand.
For cruise ship chefs, this means more work than usual, as people tend to indulge themselves far more over the winter holidays than they might do even on a regular cruise. Cruise ships begin by taking stock of ingredients and ordering sufficient supplies, particularly of holiday specials such as turkeys, fruit and vegetable for pies, geese, and beverages including wines, brandy and rum.
Preparation for dishes that need time to cure such as ham, or to soak such as dried fruit for Christmas cake and pudding starts well ahead of the season. Cruise companies also analyse their guest lists and understand the demographics – such as predominant age groups or cultures – to design menus that will cater to their preferences.
With this in mind, cruise ship chefs jobs entail an understanding of various cultures and their specific Christmas specials. Guests from North America typically enjoy gingerbread, fruit pies, Christmas ham, roast turkey, and fruit cake. Passengers hailing from European countries such as Germany, France and Scandinavia prefer stollen, mulled wine, Christmas cookies, herring salad, sausages, smoked salmon, roast chicken, spice cookies, meatballs, cheeses and rice puddings.
Thanks to the rush over the holidays, cruise ship chefs must cook holiday specials in mammoth proportions. A major part of the decorations are gingerbread displays, which some cruise vessels go to great lengths in terms of size and detail.
Disney Cruise Line organises an annual competition among its ships for the best gingerbread house. In 2017, Disney Wonder created a magnificent display made with around 650 pounds of gingerbread dough, 220 pounds of icing sugar and 5250 gingerbread bricks, in addition to candies, cookies and other decorations.
Through the season, cruise ship chefs stay busy catering to passengers' mammoth appetites for holiday specialties. P&O cruise ship chefs, for example, roast around 1100 turkeys and serve 600 bottles of Champagne. On Fred Olsen Cruise Lines, nearly 14000 mince pies and 744 Christmas puddings make their way out of the galleys, as well as nearly three-quarters of a tonne of turkey!
On the Silversea, chefs must prepare for guests who typically eat their way through a tonne of turkey and 2200 Christmas pantone, 2500 bottles of Champagne and 12000 bottles of vintage wine.
Fruit and vegetable sculptors and cruise ship chefs pull out all the stops on Christmas Eve, Christmas Day and New Year in particular, to create intricate as well as tempting displays of food at gala nights and buffets.
In addition, they must prepare special gift baskets and hampers for the shops, bakeries and on board Christmas markets, as well as special trays of treats to be sent to the suites during the holiday season.
Cruise ships are getting increasingly innovative, even during Christmas, with many looking at interactive sessions for chefs with guests including demonstrations or classes on making Christmas sweets and puddings, and cookie decorating for children.
Being the holiday season, work becomes even more hectic for cruise ship chefs as they put in extra hours to keep up with the high demand and extra trimmings.