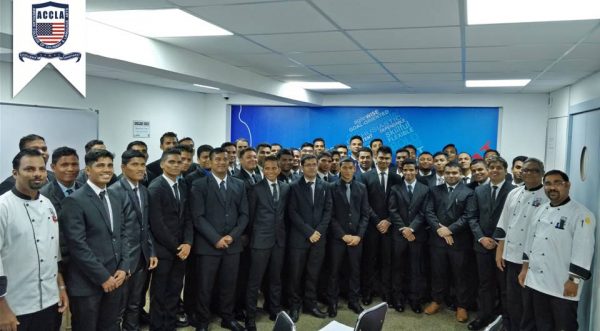 American College of Culinary and Language Arts (ACCLA) is a one of its kind 'Culinary Academy' in India, specialized in Professional Cruise Culinary Education and distinguished for high level of Quality Culinary Training.
ACCLA reshapes careers by molding one's personality with positive attitude and discipline desired, which grooms a candidate to be an all-round personality, making one suitable for Industry's need of Quality Professionals.
ACCLA practices a unique culture of providing Quality Education, in the world of hospitality, specialized in Cruise Lines Standards and Culinary work environment. Discipline and professionalism are elements that enlist American College of Culinary & Language Arts as one of the most reliable, exquisite and Unique Culinary & Cruise Line Academy in India.
ACCLA ensures Quality of Education by providing hands-on practical exposure in Cruise Line Galley Procedures and Practices by training the students in a Recreated Cruise Line Galley Facility. Assured Industrial Training with Top Most Hospitality Brands are the main strengths of ACCLA.
Situated in the smallest state of India's hot spot of the Tourist all around the world, well known 'Goa'. Tourist are mainly attracted towards the state's sun, sand, night life, cuisines and lifestyle. Goa has the highest concentration of famous international brands of hotels mainly like Taj, W-Hotels, Leela's, Radissons, Club Mahindra, Grand Hyatt and a many more. Culinary is a growing field and many aspire to make a career as it provides a wide range of job opportunities on Cruise liners as well as overseas.
We at American College provide training to students who aspire to make a career into international culinary. With increase in cuisines from around the world, we provide training in continental cuisine. Continental food refers to the kind of food eaten in European countries. Though the foods are based from France, Italy, Spain, Portugal, America, they have their own distinctive features, as a whole, the food from all these countries is famous as continental food. It is also known as international cuisine.
At the American College the students are not only trained into this cuisine they are trained according to the cruise line standard and also follow a ship board menu. The students are also given the opportunities to get trained in  5 Star Hotels in Goa gaining the further exposure into the production department for a period of six months. The college is more inclined in providing training to the students into cruise line standards. The students are more aspired to join the cruise liners as they can avail a number of benefits like travelling
around the world, entertainment, food and accommodation which are all being taken care by the cruise company.
The college also provides campus interviews for famous and luxurious cruise liners like Regent Seven Seas, Oceania Cruises, Norwegian Cruise Lines, TUI Cruises and other luxurious cruise liners. We have a track record of 100% in placing our student for various cruise lines and international hotels. We have students coming from various states of India like Karnataka, Maharashtra, West Bengal, Uttrakhand, Andhra Pradesh, Kerala and many more including Goa. The last cruise line interviews held were on the 21st of July 2017. We had a score of 91% of the students being selected during the interviews.