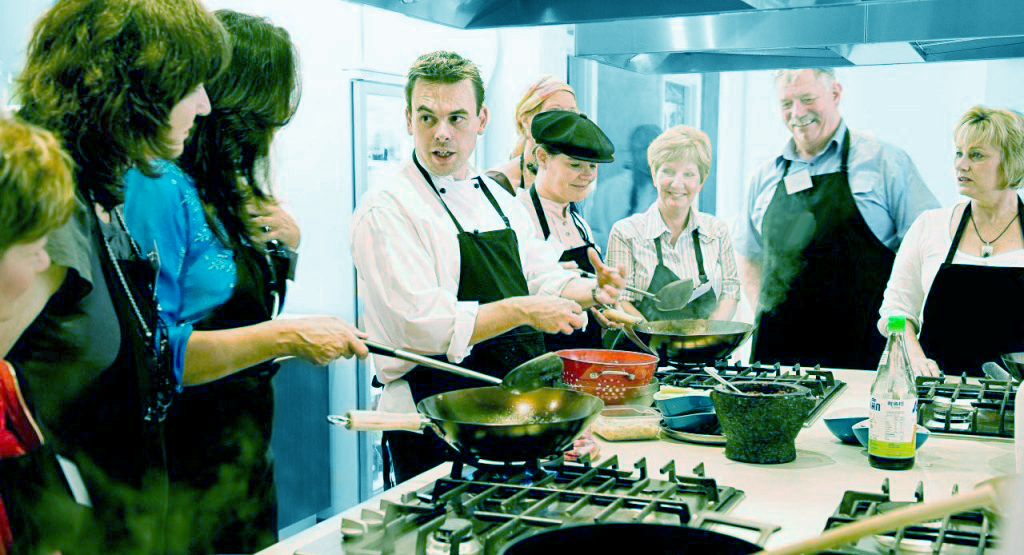 Cruise ship chefs jobs don't always have to involve toiling away in a galley below deck, wondering about the delighted faces of guests who enjoy your food. Today's travelling demographic often includes guests who enjoy culinary experiences – not just indulging in it, but also learning more about what they eat.
Cooking classes and demonstrations are among the popular activities guests like to engage in while on board. These include private classes or small group lessons of around five to 10 where guests can share one-on-one experiences with chefs, understand more about technique, and take away memories of great food and new recipes.
Many cruise ships offer classes with celebrity chefs, but they are not always available on board. Displaying good cheffing skills, warm yet professional behaviour and in-depth knowledge of the culinary arts can land you a cooking or demonstration class.
Azamara cruises, for example, gives cruise ship chefs a chance to teach interested guests how to make sushi or sashimi and whip up their favourite risotto. On Crystal Cruises, the excursions team schedules complementary food-themed tours in port, so guests can connect what they learn with you on board to the food they eat on land.
On Holland America, private cooking classes allow guests to understand the secrets of great pesto and making the perfect jerk chicken, even as celebrity chefs lead demos at regular intervals. Exclusive cooking classes, which are more often than not priced in the top range, are coveted by guests eager to learn specific techniques and skills used by those in celebrity chef kitchens. This would mean passing on knowledge learnt as part of the team upholding the reputation of the celebrity chef on board. It's a big responsibility.
A variety of river cruises specializing in unique culinary experiences for guests are joining the bandwagon. Owing to their courses, often focusing on the Mediterranean region, the vessels make port often, allowing cruise ship chefs to take guests opting for their exclusive cooking classes ashore to source ingredients.
Scenic Cruises, for example, has remodeled its dining rooms on board the Scenic Diamond, Scenic Sapphire and Scenic Emerald to house new private cooking emporiums. This space boasts cooking stations, cheese and wine cellars and audio-visual screens for up to 10 guests to easily view the cooking instructions from the chef leading the class.
Similar cruises with exclusive cooking classes see cruise ship chefs head ashore with the guests to source local ingredients such as conch in the Bahamas or Bordeaux chocolate in France, head back on board and show participants how to cook with them.
In a similar vein, cruise ships are also offering classes on wines and their pairings, with in-depth knowledge to guests on everything from appropriate glassware to grape origins. The Queen Mary 2 launched its Carinthia Lounge, which has a Wine Academy – a space where the chief sommelier and the wine team lead exclusive classes on various topics, regional tastings and producer workshops.
Being a good cruise ship chef can open a mine of opportunities even on board, so you can try something different through the course of your time at sea.