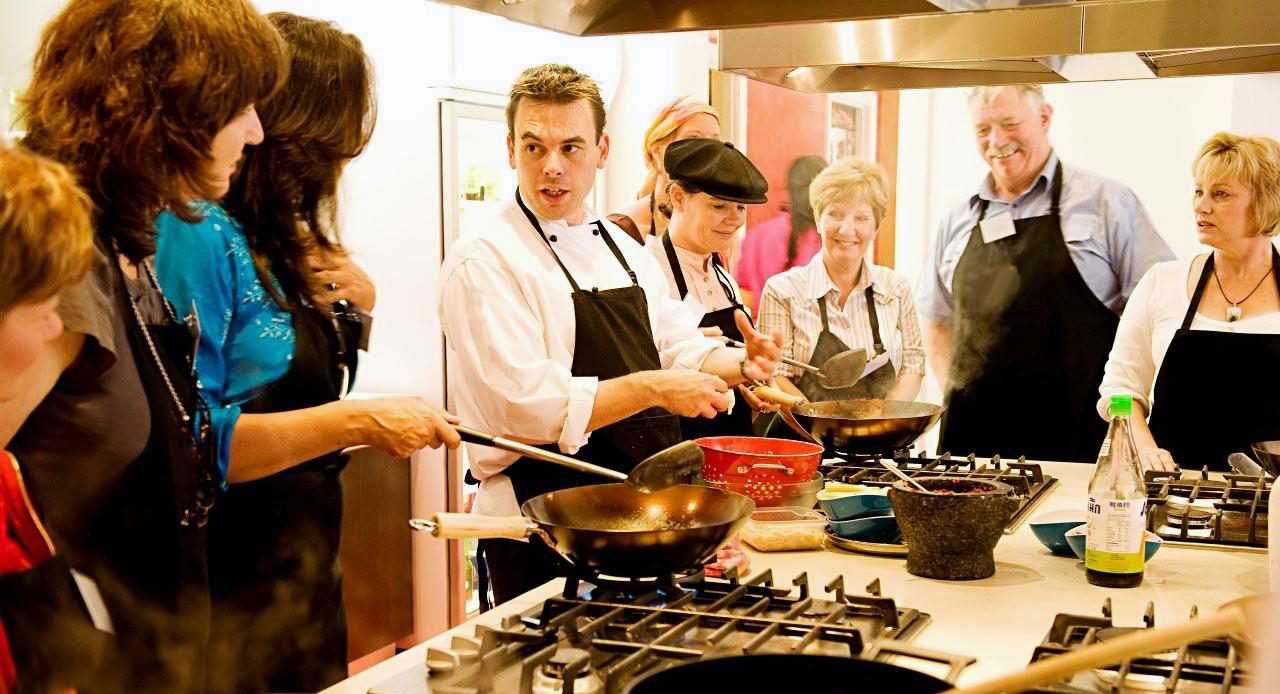 If you thought that cruise ship chefs jobs meant slogging it behind closed doors for hours on end with guests having no clue who the creator of their delicious dish is, you're partly mistaken. Yes, you will be slogging for long hours, but you knew that already. However, cruise ship chefs today are not entirely hidden from the public gaze.
Food is a quintessential part of the cruise experience, and today, has become a huge part of the travel industry. In fact, the Food Travel Monitor for 2016 by the World Food Travel Association stated that as much as 93 per cent of travellers can be considered 'food travellers', or travellers who participated in a food or beverage experience other than dining out. This means gourmet store visits, cooking schools, food tours, tastings, etc.
Cruise ship companies are not too far from cashing in on this exciting statistic. On the high seas, guests focus on the experiences on board, and food comes with a high social media-friendly factor. Think Facebook live feeds, Instagram pictures and Twitter updates.
Cruise ship chefs jobs call upon individuals to do more than just cook a meal. They often put on a show. One of the easiest ways cruises do this is to host live cooking demos on board. This involves the chef demonstrating his cooking skills in a particular cuisine style or theme.
Cruise ship chefs are required to have an interactive session with guests while doing so, explaining the ingredients being used, asking and answering questions, offering tips on techniques, etc. Guests then get a chance to enjoy the meal that was demonstrated before them. It offers them a chance to learn more about the food they love, and the people behind their meals. In turn, chefs get a chance in the spotlight and an opportunity to share their passion for food.
Disney Cruise Line offers complimentary on board cooking demonstrations, showing just how popular these experiences are. Many other cruise lines have hands-on cooking sessions, where guests who sign up cook alongside the staff. Chefs teach them how to make the perfect salsa or how to cook risotto just right, the ideal way to roll sushi. It often takes place in the galley, or kitchen, and chefs offer one-on-one technique tips before participants enjoy the meal together.
Another programme offered by companies that greatly involves cruise ship chefs is the Chef's Table. This is usually an event with the executive chef who heads the entire food and beverage operation on board. It is often a special, formal affair, priced quite high. Guests get a private tour of the galley with the executive chef with Champagne and hors d'oeuvres, following which they share a meal cooked by him or her with a chance to spend some time with the top chef on board.
Cruise ships also offer cooking classes on board. Holland America, for example, has a state-of-the-art Culinary Arts Centre specially created by Food & Wine magazine for its cooking classes. The demonstration theatre features auditorium-style seating and plasma screens so minute observations can be made. Celebrity chefs make guest appearances and cruise ship chefs take over culinary events such as wine or chocolate tastings.
Luxe line Silversea holds its L'École des Chefs by Relais and Châteaux cruise, which is an entire voyage dedicated to cooking demonstrations, "lunch and learn" sessions, market tours and classes, knife skills workshops and more. Celebrity Cruises even hosted a Top Chef At Sea competition in 2015 and 2016 in which guests watched the reality TV show contestants battle it out on board, and also got a chance to take private cooking classes or dine with them.
Today, cruise ship chefs are more than makers of meals. They are a major part of the reason the industry keeps growing.