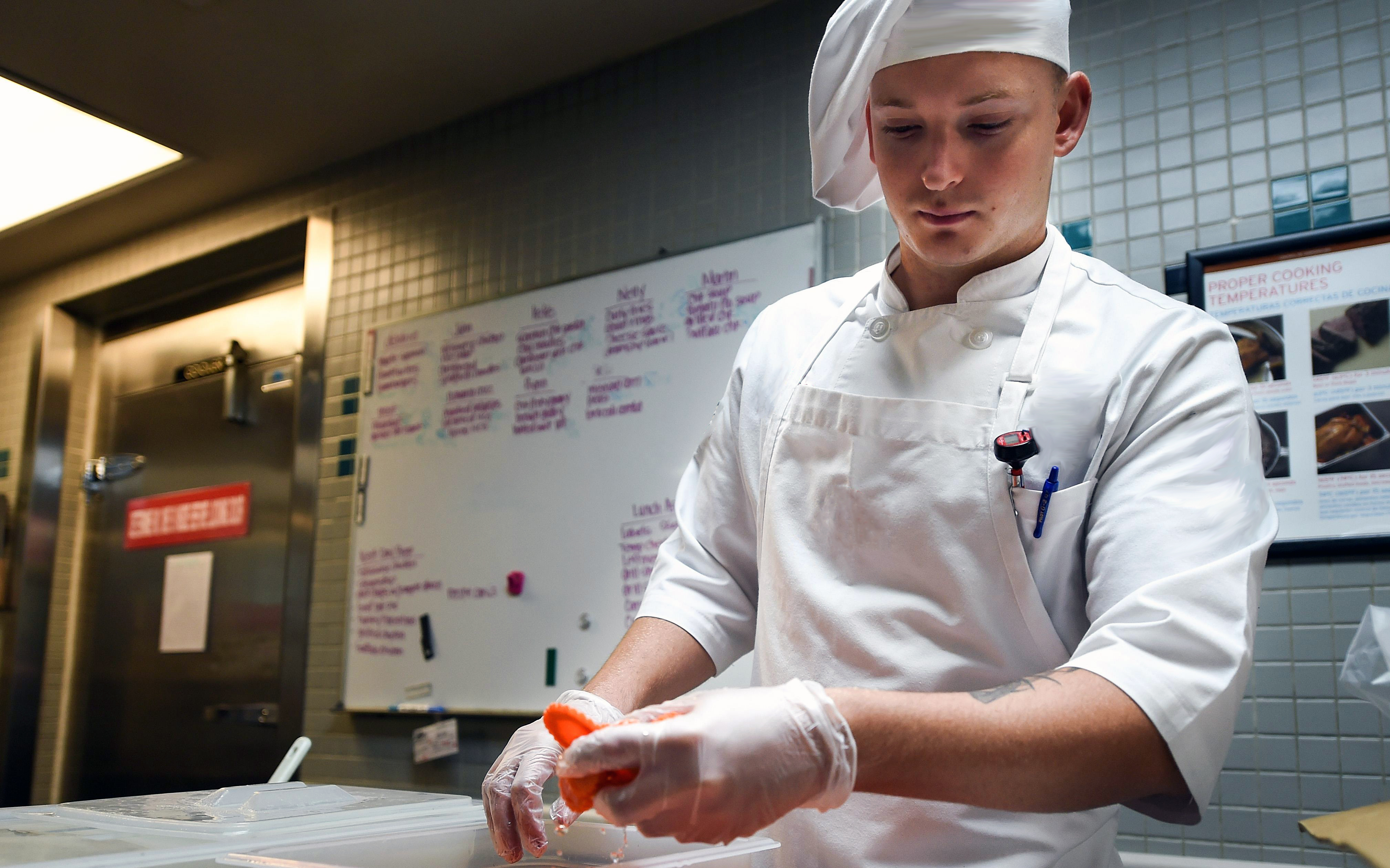 On board a cruise ship, chefs are most easily distinguished by their uniforms. Chef's whites, as they are called, are one of the most recognised uniforms around the world. It sets them apart in the world of hospitality and lends a unique air of professionalism and respect to the wearer.
The first modern uniforms for chefs appeared somewhere in the 19th century, introduced by top chef of the time Marie-Antoine Carême. Toques, or chefs' hats, were already being used with rumors suggesting that they became a trend after King Henry VIII beheaded his chef after he found hair in his soup.
Carême's design for his chef's uniform has not changed much over the years as the style served a more practical rather than fashionable purpose. He chose the colour white as it signified cleanliness, and on board a ship with space constraints, keeping uniforms impeccable is the mark of a good chef.
The main purpose of a chef's jacket is to keep its wearer safe in a hot kitchen. The material is usually high quality, with cotton of double thickness and often fire resistant. On board a cruise ship, open flames are prohibited for safety reasons but that does not mean the uniform loses its purpose.
During service, it's a rush to get food to patrons as quickly as possible and a small nudge could result in hot liquids spilling out of vessels. The thick uniform saves the chef from being scalded by boiling liquids and oils, and also from hot steam when a pot lid is suddenly lifted. It also offers a degree of safety against sharp tools like knives and peelers that could cause a health hazard should blood be spilled.
The jacket is also a nifty item when a chef happens to stain it. In a kitchen, it's difficult to keep one's uniform spotless all the time, but it could occur that a chef might need to meet a guest. Appearance is important, so with a traditional double-breasted jacket, the chef can quickly cover up in the event of a spill.
The jacket has two rows of buttons in front, so if the chef needs to leave the kitchen, all that needs to be done is to switch so that the clean layer is in front, and button up again.
Classical chef's whites also consist of a white neck-tie or neckerchief that was originally meant to soak up sweat or wipe one's face or forehead. Today, it's often a fashion statement that completes the chef look.
In addition, chefs wear a white knee-length apron and a dish cloth. Trousers are mostly chequered so that stains are not easily visible, and loose-fitted for ease of movement. Shoes must be closed to protect the feet and have soles that offer sufficient grip so that the chef does not slip on spilled liquids. It's important to wear the right shoes as chefs spend a lot of their day standing and this could cause health problems over time.
The toque is always white, unless it has been conferred on the chef by a guild for recognition of excellence, in which case it is black. Other than serving the purpose of keeping hair out of food, toques also prevent damage to hair caused by smoke and oil, as well as absorb perspiration from the forehead. Often, its height signifies the experience of the chef wearing it.
Put together, the chef's uniform is a symbol of hard work, persistence and skill, and keeping it clean only proves his/her respect and passion for the job.