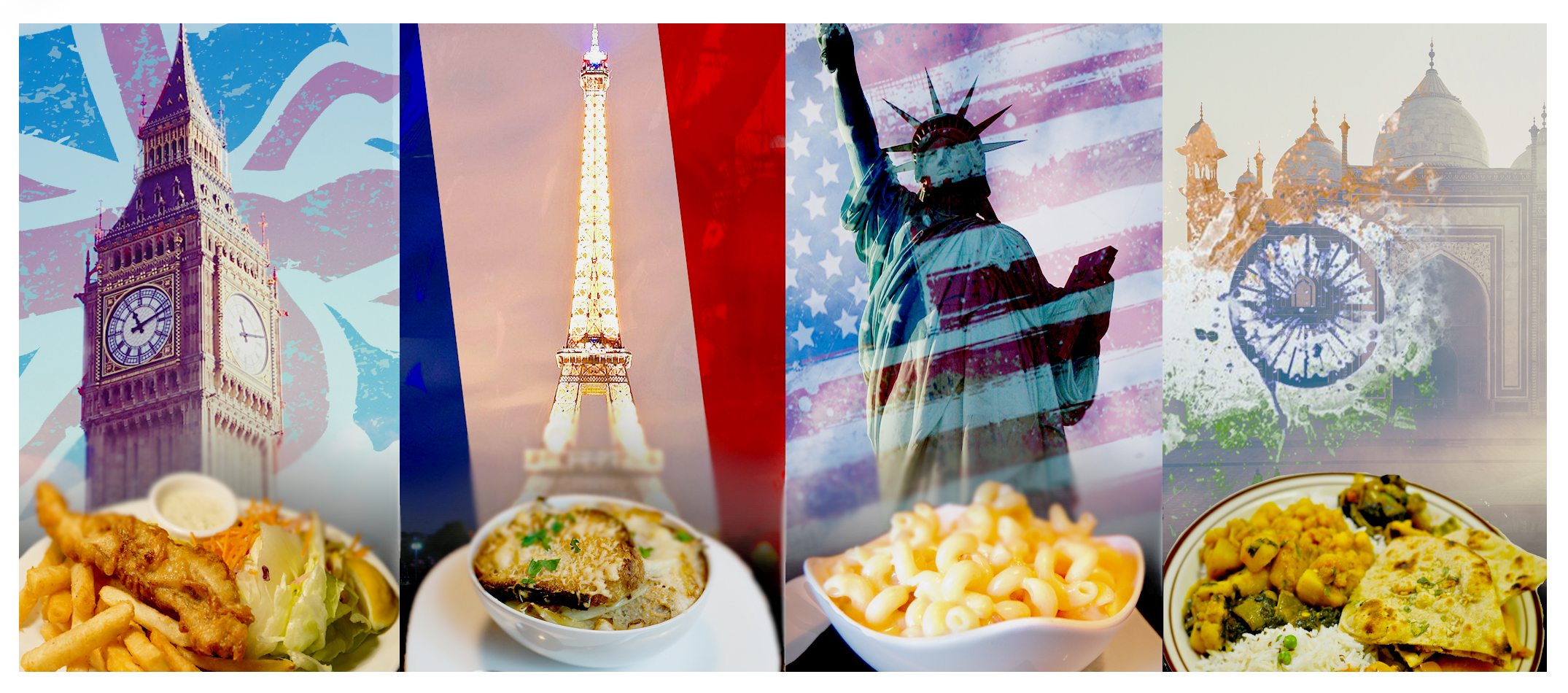 Research suggests that the average guest gains around 7-10 pounds on a cruise. With thousands of guests per cruise, that's a lot of food to cook to satiate the cravings of all. Cruise ship chef jobs demand a wide knowledge of culinary styles to cater to varied tastes and also offer folks on vacation a different experience from what they're used to at home.
Generally, cruise ships have a main dining room and a buffet area that are complimentary for all passengers. But there are also a number of specialty restaurants, lounges, bars and cafes throughout the liner. The new Carnival Vista has around 29 dining spots across the ship, including two by celebrity chef Guy Fieri. Overall, the types of cuisines cruise ship chefs rustle up fall into one of the following categories:
Comfort food
Despite the many gourmet options often available on board, many guests – especially children – reach out for things they are familiar with. British guests might want bangers and mash, fish and chips, Welsh rarebits, Cornish pastries or sticky toffee pudding. The French look forward to onion soup, gratin dauphinois and croque monsieurs. US comfort food is favoured by many around the world – macaroni and cheese, apple pie, chocolate chip cookies, meat loaf, tuna casserole, fried chicken and stews. Ice cream, hamburgers, pizza, dumplings, sliders, pancakes, and others are popular as easy choices and grab-and-go meals.
All of these – including breads, pastry bases, ice creams, sauces and soups – are made from scratch on board the cruise ship, and as a chef, you could be responsible for any of these.
Specialty cuisine
Cruises offer a well-rounded experience, and while the ship is sailing, it is not uncommon for guests to go the extra mile and try out specialty cuisine to set their vacation apart from the rest. Cooking specialty cuisines often involves using rare ingredients and having a special skill set, so experience works in your favour. Gourmet ingredients used here include foie gras, caviar, stinky tofu, artisanal cheese and coffee, edible seaweed, truffles, certain types of mushrooms, and umeboshi.
The Epicurean on P&O Cruises, for example, serves a range of delicate dishes, from chicken liver parfait with wood smoke and Spanish cured ham with Manchego cheese and olives, to loin of wild boar and salt marsh rack of lamb. Many are cooked using molecular gastronomy techniques and incorporate liquid nitrogen for special textural effects.
Regional tastes
Restaurants serving cuisines from around the world find their way on board. Asian tastes – Japanese, Thai and Korean – have long been a favourite, as have Italian and Spanish dishes. Indian food is now making inroads onto cruise lines as well.
Cruise ships also cook cuisines of the ports they stop at, offering trainee chefs a welcome insight into specific regional dishes and varied experience with every contract. Princess Cruises rustles up delicious Bahamian favourites including cracked conch shells, johnnycakes, souse and guava duff. Uniworld's south of France tour sees dishes like daube provencal, bouillabaise, and iced Montélimar nougat parfait.
Guest requests
Now and then, as more people realise cruising is fun and do-able, cruise ship kitchens receive special requests from guests. These span the range from allergies to diets and even baby food. Companies differ in their policies of what is available to guests on board, but as competition increases, they widen their offerings to be more inclusive.
There might be requests to tweak certain dishes to suit special requirements, particularly when ordering room service. Food is generally required for vegetarian, vegan, low or no fat, low or no salt, lactose intolerant, dairy free, gluten- or wheat-free, low cholesterol, diabetic, kosher and halal diets, as well as allergies to certain ingredients.
In all cases, the more of a variety of food you cook as a cruise ship chef, the better your chances of moving forward in your career.