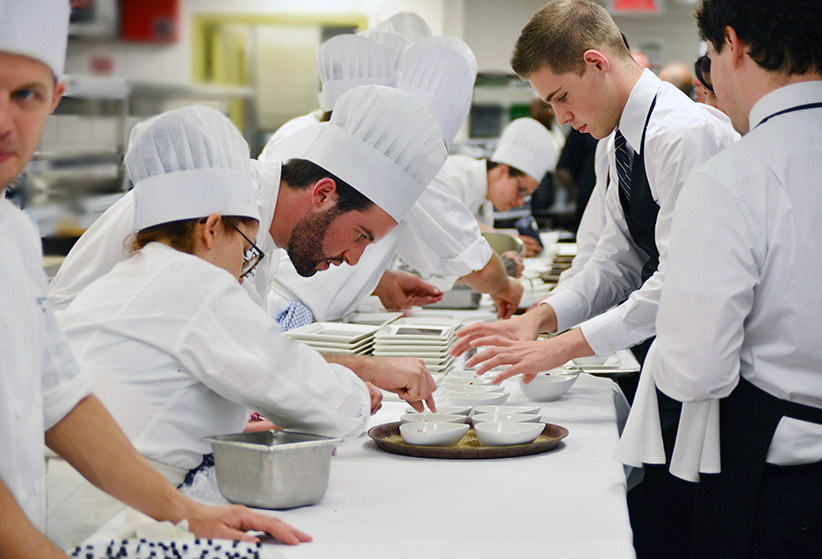 The thing about challenges is that they are generally always looked at in a negative light. However, while they present difficulties, they always represent chances to learn something new or perfect an art.
Cruise ship chefs jobs are an exercise in perfection, maintaining standards and realising logistical targets. The biggest challenge of cooking on a cruise ship is the volume. Guests on the latest vessels can number in the thousands – the largest, Symphony of the Seas, scheduled to launch in 2018 will carry as many as 5500 passengers.
Feeding each of these can be a logistical nightmare for a regular chef. Cruise vacations offer guests an opportunity to taste different food types and indulge in all sorts of treats, so many will eat more than they normally do. Chefs expect that each passenger will eat all three main meals and at least one or two snacks during the day. After all, the guests are on vacation.
Limited space is available on a cruise ship, so galleys need to be functional and efficient within that area. Cruise ship chefs jobs entail quick learning in how to manage with such restrictions – passing each other and other kitchen staff in narrow alleyways, keeping cooking and prepping areas clean always – while still getting food out the door on time.
Another challenge is the volume of food that needs to be cooked. Even with smaller numbers of about 1300-1500, a cruise ship galley will go through nearly six tonnes of fresh veggies, four tons of meat, 18,000 eggs and 1600 bottles of wine a week. Compared to a land-based job, these numbers are astronomical. On the bottom rung, line cooks might spend a great deal of their time doing just one job – making stock, cleaning vegetables or prepping chicken.
The volume also presents another obstacle. Cruise lines do not stop in port every day, so access to fresh supplies is limited. Cruise ship chefs must be able to assess how much stock they will need well in advance. If there's a mistake and they run low, chefs will need to be able to come up with an acceptable alternative on the go.
This situation often crops up with food items like lobster tails or beef medallions, for which requests can vary every day. Cruise ship chefs have the precarious task of ordering enough to last them the week, but also not over-order in which case the food can go bad over time.
Storage becomes important. Cruise ship chefs ensure they use items that were stocked on board earlier, so they don't pass their use-by dates. They constantly make note of their stocks, and must follow stringent rules regarding old food.
Due to the volume, stocks like meat and fish are most often frozen. These need to be defrosted correctly, often changing temperature zones over a couple days before being brought to room temperature. This gives you an idea of the type of planning that goes into making a single meal. If a couple has requested a special beef carpaccio for their anniversary on board, planning and defrosting preparations begin a few days in advance.
Cruise ship chefs must also contend with limited opportunities to display their own creativity. For those who are not in the upper echelons of hierarchy that decide the menus on board, recipes must be followed to the 'T'. Cruise line companies prefer to maintain standards on all their vessels. For this, they provide each liner with the recipes as well as images of what the dish should look like. The executive chef will taste every dish under his or her charge every day to ensure that the taste and look matches the company vision.
In addition, cruise ship chefs have stringent safety rules to follow and are not allowed the use of gas stoves and open flame barbeques. Everything is electric, and the challenge here is to recreate that taste. Carnival Cruises went to the extent of creating a custom-made smoker that adheres to international sea safety laws for its Pig & Anchor Bar-B-Que by Guy Fieri on the Magic.
There are many challenges on board for cruise ship chefs, but that is usually never a reason to say 'no' to a guest's request.