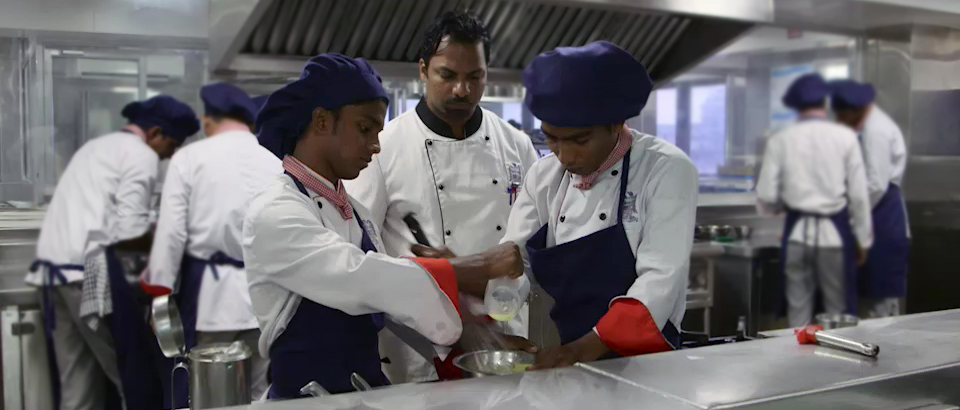 At the current rate of growth, the cruise industry is expected to continue profiting well into the future. It is therefore no rocket science to assume that the demand for services, particularly cruise ship chefs who feed the thousands of passengers on board each year, will thrive alongside.
Still, novelty continues to attract patrons and the more innovative the service, the higher the expected returns. Cruise culinary education is part of this preparation for the future, empowering new chefs with thought processes that will stand them in good stead for the years to come.
As with other spheres of life, technology has also entered the kitchen, not restricting itself to equipment for the cook, but also extending itself to the guest. Already, wait staff on the Royal Caribbean's Quantum Of The Seas are robotic. Even the bartenders at the cruise liner's Bionic Bar are mechanical. This means that cruise ship crew must be in a position to offer something more than a computer program that guides these robots.
Cruise culinary institutes can no longer be content with teaching students basic recipes and standard cocktails. While the foundation of cruise cooking must remain strong, education must also include ideation, creation and out-of-the-box thinking. So in a space where robotic bartenders or chefs make standard drinks, flesh-and-blood bar and kitchen staff can offer innovative, personalised dishes or cocktails while adding a human touch. Performance is still expected to win, so flair bartending, teppanyaki and open kitchens can continue to astound guests.
Technology is not all bad, however. New apps allow cruise management to understand performance to increase efficiency, or even allergens that affect guests. Tablets can help guests understand menus in their own time, particularly the history and construction of complex dishes or offer interactive, educational material about wine varietals.
All of this does not mean that technology will completely replace humans on board. Management is looking at an ideal balance between efficiency and a personal connection with the guests.
The food of the future on board will also follow land-based trends of putting a focus on local, sustainable cuisine. While global tastes will continue to prevail to offer guests as diverse a menu as possible, local ingredients available at ports of call are being used to add interesting twists to known flavours as well as improve efficiency and costs.
To feed this interest, culinary cruise institutes will need to broaden students' perspectives of using local cuisines in innovative ways. It is obviously not be possible to touch on everything, given the wide distinction in cuisine styles over just a few kilometres, but the key is to whet curiosity for travel to very localised areas, research in dying recipes and subsequently innovation to reinvent the old for the new.
To equip students for the future, culinary cruise educators must focus on mixing technology with personalised service, innovation, and 'glocal' cuisine – global with a touch of the local. After all, the world is just one big village.