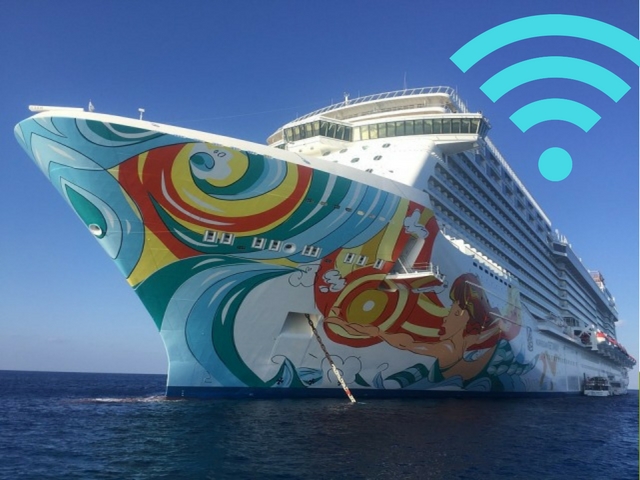 Not too long ago, cruise ship chefs spent months on board with barely any communication with their families while sailing. They resorted to sending postcards, emails and even calling only when they reached port. All of this depended on whether they got shore leave or not.
A cruise ship chef's job is hard, and getting through the contract without daily contact with their loved ones at home makes it so much harder. Cruise liners have now made things a little easier by upgrading their technology so that there is internet at sea 24/7.
Nearly all cruise ships now offer Wi-Fi on board, and large scale investments in communication technology has meant that prices are being driven down each year. Still, internet at sea can never be as reliable as it is on land. Any obstruction to the antennae sending or receiving signals from the satellite is likely to cause an interruption.
If you're lucky to be sailing in the Caribbean, the quality of internet access is much better than elsewhere thanks to efforts by maritime communications company Ob3 Networks. It came up with a way for its satellites to stay aimed at ships as they move so that the vessels almost always are within reach.
Emails and voice calls are rather easy for the internet company to deal with. It is video calls and streaming video that take up a lot of bandwidth. So many companies either block applications like Skype, FaceTime and YouTube, or charge more for passengers or crew to avail of these facilities.
Depending on the cruise ship, the crew can also get a variety of internet facilities, ranging from access in cabins to internet cafés on board. All of it is rarely, if ever, free. But prices range from cruise ship to cruise ship. The crew also gets a discounted rate compared to passengers. Norwegian Cruise Lines, for example, charges their crew 10 cents per minute at its on-board internet cafés, compared to 75 cents per minute for passengers.
Cruise ships often add restrictions on use or websites that can be accessed on public computers. For those with their own laptops, this may not be the case. To save money, it is advised that one avoids uploading images or using video calls. Instead, downsize the image if absolutely necessary and use voice calling instead. On cruise ships where internet prices are high, it might make sense to switch off the internet after email has been downloaded so you can take your time to write a reply before switching it on again to send.
With vessels hitting port every so often, Skype or FaceTime calls can be delayed until then. Cruise ship chefs, who get time off at port, can use free Wi-Fi facilities available in public places ashore. Fellow crew members might also be able to suggest places that offer free or cheap internet facilities. In addition, many internet cafés at popular ports offer special rates for cruise crew, so asking around could help you save some money.