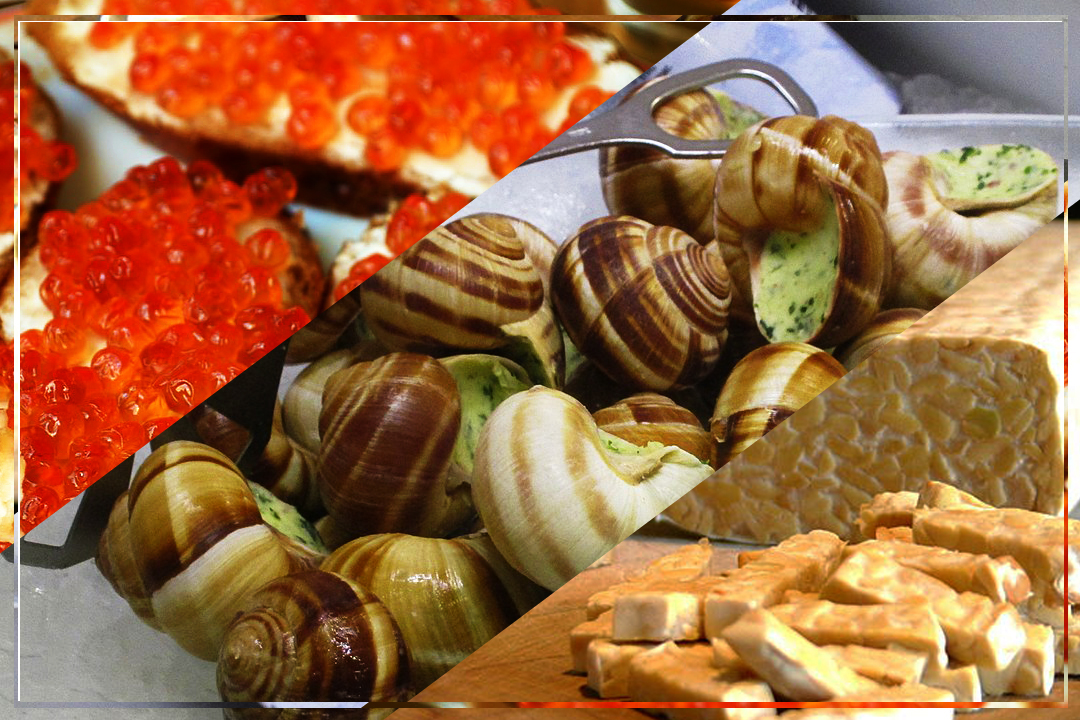 Comfort food is a staple on board cruise ships whereas unusual dishes are quite rare. In galleys of all floating restaurants, cruise ship chefs work to deliver a steady stream of familiar dishes, perhaps with a bit of innovation but with familiar ingredients.
However, there are times that restaurants cater to the adventurous, offering culinary experiences to guests that they might never have dreamt of trying. Exotic ingredients such as caviar are widely available, but other lesser known but equally coveted strange treats are also on offer.
Qsine on Celebrity Cruises came up with the idea of sushi popsicles, one of which included a spicy salmon roll on a popsicle stick covered in coating of crushed cheese Doritos. Another favourite snack at the restaurant is popcorn fish n chips, which are small nuggets of popcorn, potato and batter-fried fish served in a movie-style popcorn bag.
These aren't as unusual as some of the other treats available. One of the few meat-free unusual options on board is tempeh. Cruise ship chefs on vessels like P&O cruises learn how to make dishes using seitan and tempeh. Originating from Japan, both these dishes are a stand-in protein source for vegetarians and vegans.
Tempeh appears like a cake made of seeds. These are in fact soya beans that have been fermented using fungus spores. The process causes them to bind together into a cake form that is then eaten as is or used in soups, salads, sandwiches and stews. Thanks to its nutty, meaty and mushroom-like flavour, it can even be used as a substitute for meat in tacos and other dishes.
Seitan is often known as wheat meat, made by washing wheat flour dough with water until all the starch granules are removed. It turns into a sticky, elastic-like mass of insoluble gluten which is cooked before being eaten. This versatile food item is eaten baked, fried, or steamed, or used as a substitute for meat for its close textural resemblance.
A popular but unusual food that finds its place on cruise ship menus around the world is escargots. It is not difficult to find especially at the dining room on the Royal Caribbean, where the cruise ship chefs serve a delicious escargots bourguignonne – tender snails slathered with garlic-herb butter.
In the reptile category is the much-loved and sought-after frogs legs. Carnival's range of cruise ships features this item on its menu. One of the ways frogs legs is served on ships is with provençale herb butter and warm garlic bread. Many vessels receive pre-cleaned legs to hasten preparation and save on space, but it helps for cruise ship chefs to know how to clean frogs from scratch.
A little less popular reptile dish is alligator. Carnival's range of 'Didja treats' or 'rare finds' includes alligator fritters. This is served as an entrée, often using alligator tail meat that's been marinated, breaded and fried, accompanied by spicy dipping sauces.
On cruise ships around Australia, one might find kangaroo meat on the menu, but it is more likely to find this during excursions on land as a type of novelty dish. Kangaroo meat is said to be healthier, with less fat, tending to be an option for fitness enthusiasts and adventurous foodies.
Cooking unusual meats and dishes allows cruise ship chefs to expand their repertoire and flavour range, a skill set that widens their culinary expertise.