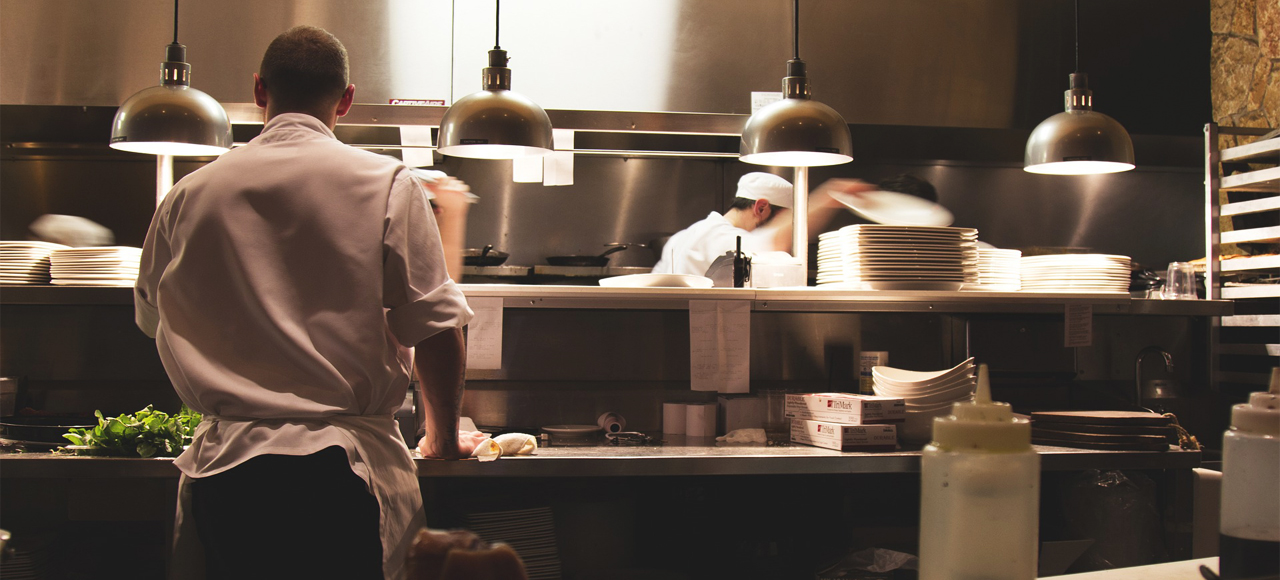 On many fronts, cruise ship jobs and land-based hospitality jobs are rather alike since they deal with the same premise – hospitality and service – but in other ways they are vastly different.
One must first understand the hierarchy of working in a galley or a kitchen to strategise a path towards progress within the industry. In both, cruise ship jobs and land-based hospitality jobs, you will mostly begin at the bottom of the pyramid. Depending on the kitchen you choose, you will be a line cook in any one of the various departments – pastry, buffet, sushi, etc.
On board a cruise ship, you will be required to have educational qualifications in food and beverage, or hospitality, and perhaps some experience too. For land-based jobs, experience is not compulsory, and smaller restaurants may not require you to have an educational qualification in the culinary arts. Larger establishments, such as five-star hotels particularly in big cities or tourist destinations, will expect previous experience but you might be able to win them over with a great interview even if you do not have a certificate to match. This would not happen for cruise ship jobs.
Once you have a foot in the door, things change. On board a cruise ship, there are hundreds of line cooks owing to the vast volumes of food required. As you go higher in the hierarchy, the number of vacant positions dwindle and you can spend quite a bit of time in a single position before moving up. At the lower end, people quitting owing to the jobs being a financial stop-gap option or moving back home to their families helps open up vacancies.
Cruise companies are far more likely to promote a chef from their own ships than one with similar experience from elsewhere as they will have better feedback on work ethic and personality. This is not so important in land-based hospitality jobs where moving up between different companies  is frequent.
Theoretically, cruise ship chef jobs offer excellent variety in terms of experience. With so many restaurants of diverse cuisines on board, you could be a sushi chef one contract, work the teppanyaki bar on another, whip up Continental dishes on a third and put your fingers in the Asian pot the following time. Even the open buffets serve such a huge variety of food that within a few years you will have quite a repertoire on your hands.
This would be an impossible scenario in land-based hospitality jobs, where you would work in one type of kitchen or cuisine for a significant portion of time. Still, this offers the opportunity to get an in-depth understanding of that particular type of cuisine, and work with superiors on changing menus. On cruise ships, unless you are in a position of management, you will have to follow recipes created by others with no chance of personal tweaks.
It is generally much easier to get top jobs on land compared with cruise ships. Indian food is taking the world by storm, but not many chefs find their way to the top spot on board. Things are changing, however, slowly but surely. The Q Experiences has recently launched an exclusive luxury cruise to Antarctica with Michelin-starred chef Atul Kochhar on board.
In the meanwhile, cruise ship jobs are creating more and more great chefs from India who go on to make a name for themselves in land-based jobs. Vicky Ratnani, for example, worked on board for 14 years, including on the Queen Elizabeth 2 training with Todd English as his executive sous chef. With the skills and experience they receive on board, others become trainers and fulfill high-level positions in leading hospitality firms and hotels around the world.
Weighing the benefits and disadvantages of cruise ship chef jobs and land-based hospitality jobs, and combining this with a target for the future will help you chart out your trajectory for success in the industry.