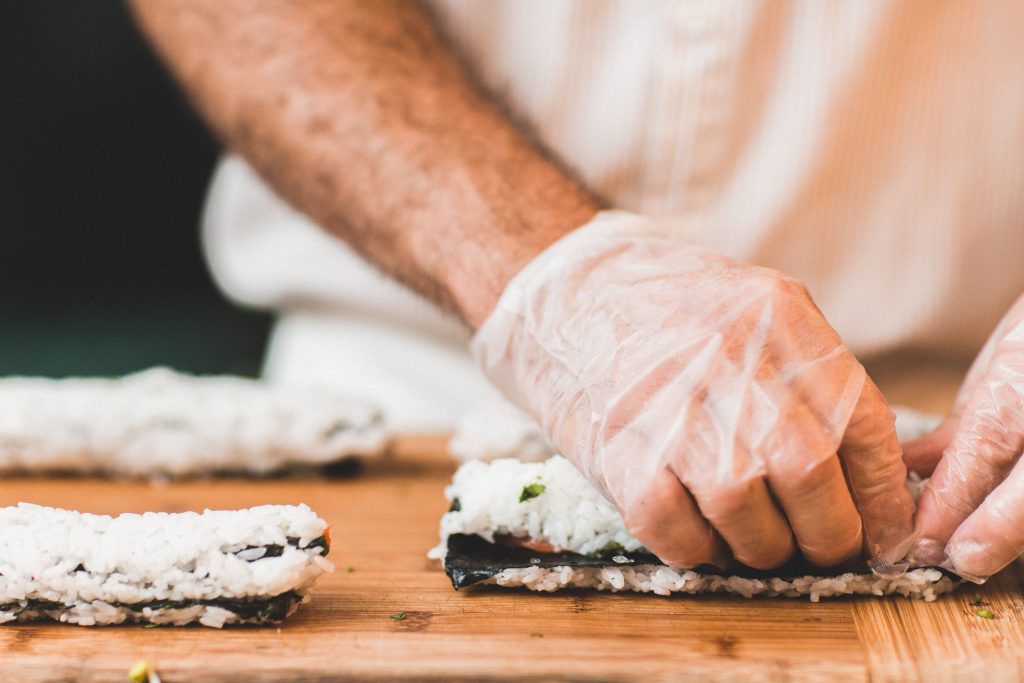 Health and safety is paramount on a cruise ship. Chefs and other staff working in the galleys must ensure that high standards of cleanliness are maintained at all times to avoid contamination and the spread of disease.
Prevention of contamination begins from the source. Cruise line companies ensure that the vendors of various food items comply with safety and hygiene laws during preparation (if any), packaging, storage and transportation. Staff in charge of receiving goods have various procedures to follow to ensure that only produce that adheres to strict standards is accepted. The rest is simply rejected.
During storage on board, a number of guidelines are followed. The major ones include storage of meat and vegetables – raw meat must always be stored below vegetables to avoid any liquids from dripping into fresh produce. Recent deliveries are usually stored at the back so that those with earlier use-by dates leave the store first.
Food items are also stored in a different area from chemicals such as cleaning liquids and other sanitisers used in the galley.
The threat to food is greatest from the people handling them. In this regard, everyone from the storage staff to the cruise ship chef to the wait staff must follow strict personal hygiene procedures. All staff is required to wash their hands frequently and in the correct manner, particularly between tasks, after using the restroom and after an interruption such as answering a telephone call. It is even required to wash one's hands after scratching an itch to ensure that no germs whatsoever can make their way into the food being prepared.
Galley staff must have short nails, tie long hair – even beards, wear clean uniforms and aprons, properly cover wounds and cuts, use properly fitted single-use gloves when handling ready-to-eat food, and remove all jewellery when working in the prep areas.
Importantly, cruise ship chefs are expected to report when they are feeling ill, particularly if they have experienced diarrhea, nausea and vomiting in the last few hours. These are the symptoms of food-borne diseases, such as norovirus, which are extremely contagious and can cause an epidemic if not contained properly.
One of the main ways to prevent contamination of food on cruise ships is controlling the temperature at which a food item is stored at and the length of time it remains at that temperature.
It is virtually impossible and quite impractical to ensure that every last spoon of a particular dish is consumed in one sitting. Unfortunately, bacteria and germs tend to proliferate easily at warm temperatures – not too hot, not too cold. Guidelines are available to show chefs the proper temperature to store different food types at to slow the growth of harmful bacteria.
This is extremely important on a cruise ship as the population includes many individuals who could be at a higher risk of contracting diseases, such as old people, toddlers, or people with compromised immune systems such as those with HIV.
Dishes and utensils are expected to be kept cleaned and sanitised at all times. There are particular procedures to follow when washing, cleaning and sanitising, and specific food-grade solutions to use during these processes.
Each cruise ship has its own set of guidelines, but overall, most remain the same. Guests are key to the survival of the cruise ship industry, and to maintain high standards, companies have spot checks as do government authorities. Failing health and hygiene checks can cause the ship to be put out of service causing the company huge losses in revenue.
The first and primary responsibility of a cruise ship chef is always to ensure his or her food is safe for consumption.